Aline Community Woodland — Lewis
Thanks so much for all the fantastic feedback we have had on our last post about our big plans.
In the meantime, it seems that the climate emergency is accelerating and we are all watching with increasing concern as the Arctic, Amazon, Alaska and Siberia are burning out of control, adding even more pressure to our planet, on top of species decline and temperature increases globally. Not only is nature responding to changing climate conditions but powerful, commercial interests are driving the devastation which will have international, long term implications for us all. We are only 2 people with a croft and a plan to reinstate and nurture an active biodiverse environment within it, but we are committed to doing everything we can to do to help, everyday.
After 2 years of planning, we are finally at the point of launching our own Extinction Rebellion!
@gabysslave — Legendary Shepherd (in the making)
Our first step has been to buy the croft tenancy, which I will run as a long term, carbon neutral "small batch" farming business, with a heavy dose of conservation and biodiversity fighback. Over the next few years Nat will match our farming activity with tree planting, peat preservation and these biodiversity plans which will strengthen the produce output and the wildlife in our area.
In order to fund our biodiversity plans, we will be using a mixture of social enterprise and other funding models; from selling our sustainably made produce, using government grant funding, crowdfunding and aiming to bring in an income from a GreenExchange Platform. With Brexit looming we aren't sure what the grant, CAGS, other funding will look like and so we need your help. We are sure that other small producers, projects and crofters are facing some of the same challenges so we are aiming to set up a platform which will enable them connect with resources, funding, expertise and volunteers; which we hope to launch with the additional funds raised here, to speed up our work and as a sustainable business model.
We have already begun work on our croft on our biodiversity fightback, but your contributions will accelerate our plans, enable our GreenExchange business to launch and allow us to succeed more quickly and help you to feel you are contributing to investing your #CarbonGuilt into our real world actions through our CrowdFunder campaign.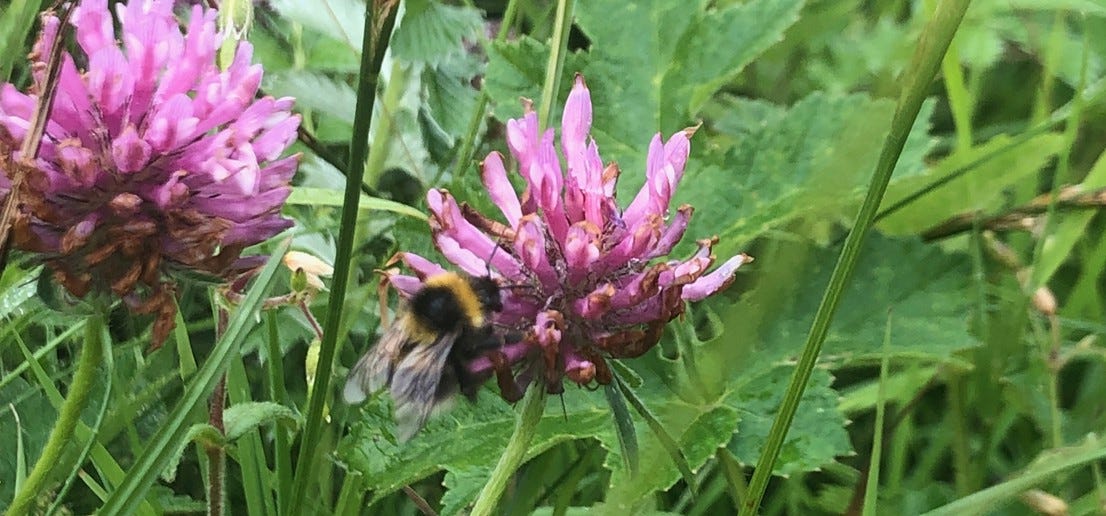 White Tailed Bumblebee buzzing on our Croft
In addition to planting trees, sustaining bumblebees, restoring the peat and hedges on our own croft which makes our own business stronger and meets a biodiversity action plan in Scotland, we will also match trees planted here with equal numbers of trees planted in Brazil, through Plant for the Planet.
We have deliberated at length about the rewards that we should offer and the usual t-shirts, totes, badges, etc all come with such huge carbon footprints that it became clear that we would be adding more carbon than we would take out if we weren't careful. So the rewards are intangible, and are reshaping how we view investments. You are purchasing a share in an actual landbank of sorts as the carbon locked away in the peat on our land is in the 1000's of cubic metres and in the hundreds of tonnes of Carbon sequestered.
Added to that we are adding the right kind of trees to help the natural foragers and the small amount of sheep we will have in the spring. Nat has found some rarer bumblebees and evidence of Corn Buntings on our croft too so we will do more to ensure their habitat is protected and enhanced, whilst encouraging other species to flourish.
A frequent visitor to the Croft
Most of all we will be creating habitat bridges, rather than the almost 'green desertlike' space that we have predominantly now. This means we will link the shore, through wetlands to hedges, to grassland, heather moor, to trees.
@Exsanguinator "…one day this will all be forest or a SSSI because of it's awesome biodiversity." (If I have my way)
The dividends will be better than any from a typical financial transactions and can be enjoyed for generations to come.
So join us to plant trees we will never grow old in the shade of and fight our extinction with every fibre of your being.
Click here to visit our Crowdfunder Campaign and support us.
Follow @Carbon_Guilt on Twitter for updates on the campaign as well as hints, tips and more ;-)